Mark WJ Balodis BA (History)
President & Chief Maintenance Officer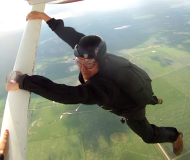 Born into a military family in Bracebridge, Ontario and a University of King's College graduate in 1998, Mark first started flying in 1991.

Since that time, he has achieved his Commercial Pilots License, Multi Engine Rating, Float Rating, Night Rating, Aerobatic Endorsement, and his Tail Wheel Endorsement. He has trained on over a dozen different aircraft, including the Stearman, Chipmunk, Tiger Moth, and the Harvard.

In addition to that, he completed his Aviation Mechanical Engineering (M1) course from the International Correspondence School in 8 months. He has participated in: the Super 71 Restoration Project in Winnipeg for the Western Canadian Aviation Museum, the Halifax Restoration Project at CFB Trenton, the Firefly Restoration Project at CFB Shearwater for Shearwater Aviation Museum, and the Ventura Restoration Project for the Ventura Memorial Flight Association located at the Alberta Aviation Museum.

In 2005, he joined the Royal Canadian Air Force as an Aviation Systems Technician (AVN TECH). After basic training, he was posted to CFB Borden to complete his Qualification Level 3 training. Presently, he is posted to CFB Shearwater and is a proud mechanic for the Sea King fleet.

In July of 2011, he returned to his love of parachuting. He earned his Solo Certificate (under the Gradual Free Fall Progression Plan) on 10 Aug 13, and has completed his 27th jump. He has jumped in Middle Stewiacke, NS; Waterville, NS; Bethesda, ON; Gimli, MB; Beiseker, AB; and Eden North, AB.

He also makes a point of maintaining his flight currencies, having gone home to flying in December of 2011. He is still heavily involved in the Beech 18 Restoration Project for Time Travel Air, somehow managing to find the time to work on it during evenings and weekends.


---
Sylvie Lavoie
Chief Financial Officer

Sylvie grew up in the small community of Vanier, just outside of Ottawa.

She then moved to Nova Scotia for her university studies. During her second summer, she found a job with the Halifax Citadel Regimental Association where she met Mark. She later joined Mark in Ontario for his military career. They married in the fall of 2006 and moved back to the east coast until 2012.

She is currently studying in the field of Culinary Arts in the hopes of achieving her red seal certification.
---
Paul Rivoire BA (Geography)
Chief Supply Officer

Paul was born and raised in the Ottawa Valley.

He graduated from Algonquin College in 1996 with a Geographical Information System Technologist Diploma. In 2002, he graduated from Carleton University with a Bachelor of Arts in Geography.

From 2002 to 2004 Paul then worked for Elections Canada as a Junior Geography Officer. He then worked for St.Clair Conservation Authorities. After that, he worked for the town of Alliston, Ontario as a Computer Aided Design technician.

In 2012, he then worked for Terrapex Environmental as a Computer Aided Design technologist. Then, in 2013, he worked for Waters Environmental as a Computer Aided Design Techologist. Presently, he's working for Telecon Design in the Designing Bell Underground Network Project.
---
Glen Gibson, BSc (Biology) BDes
Quartermaster

Glen was born and raised in Halifax.

In 1978, he was a proud member of the PLF as company marksman. In the summer of 1979, he started working on Citadel Hill as a Bombardier for the Royal Artillery animation program, in its first year of operations. He graduated from Dalhousie in 1980 with a BSc in Biology. He then graduated from NSCAD in 1984 with a graphic design degree specialising in visual communications, marketing and photography.

In 1981, he managed the Animation Program on Citadel Hill. In 1982, he was then employed as a Graphic Designer and Visitor Services support specialist in the Cape Breton Highlands National Park. In 1983, he returned to the family business of wholesale food products for hotels, restaurants, and related businesses.

Since then, he has been on Citadel Hill as a Volunteer and a part time employee as a support specialist in the animation programme and visitor services – and starting in the late 90's he transferred to the School Programme in the role of support specialist for the Army Schoolmaster Sergeant, and since 2000 has continued in that role as the Army Schoolmaster Sergeant.